State of Art Dental technology
Digital impression and scanning
Digital impression and scanning Digital Impressions (also known as 3-D intraoral scanning) are the latest technology in capturing a replica of the mouth. … After taking a scan of the mouth, a dentist can immediately send the digital impression to a lab where dentures, crowns, bridges, and retainers can be made quickly and accurately.
No goop or gag to worry about Fast, accurate impression Ideal for Invisalign® clear aligners and retainers See a simulation of your potential post-treatment smile
helps people smile more every day
At our office, we are committed to utilizing advanced dental technology to always provide our patients with the highest level of dental care. One of the advanced technologies we use at Western Dental Care is Cone Beam CT imaging. We utilize cone beam technology because it gives us a clear view of facial nerves and bone structure, which allows us to plan a customized procedure to protect your nerve endings. Such advanced technology allows us to minimize pain and speed up the healing process.
What is 3D Cone Beam Imaging?
Cone beam 3D technology is an imaging system that provides our dentist and dental team with a three-dimensional image reconstruction of your teeth, mouth, jaw, neck, ears, nose, and throat. 3D Cone Beam imaging provides fast, comfortable, and highly effective dental imaging for an accurate dental health diagnosis. This scan takes approximately 20 seconds and allows your dentist to quickly assess your dental needs and get you back out enjoying your life in less time than you might expect from traditional imaging equipment.
Cone Beam CT has some similarities with traditional dental X-rays. However, traditional dental X-rays can only capture two-dimensional views of hard tissues (like bone and teeth), while CBCT can image these anatomical structures with less distortion, more clarity, and unlimited perspectives of areas of interest. These features help your dentist make an accurate diagnosis and choice of treatment for each individual patient.
For the dentist, these scans offer the ability to see intricate structures inside the mouth, such as root canals, nerves and sinuses in the jaw — in 3D — without having surgery. For the patient, it reduces the need for invasive procedures, allows for shorter treatment time and offers the chance for better results.
VR distraction/Digital N2O In western dental care, we offer patients OperaVR the drug –free solution to relieve dental pain and anxiety. OperaVR uses the power of virtual reality to immerse you in calming environments ,such as the beach, relieving discomfort and melting dental anxiety
Dental vibes Pain free injections. Millions fear the dentist because of potentially painful procedures. DentalVibe alleviates the anxiety of oral injections by massaging the nerves and tissue around the injection site for better dental experiences. That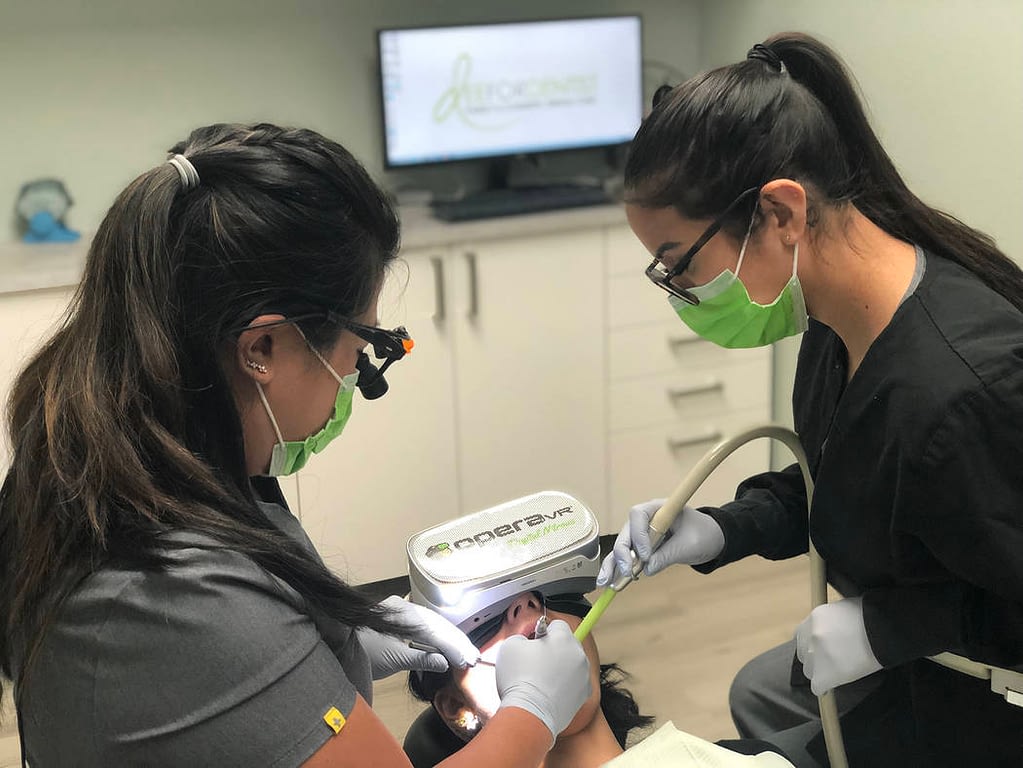 | | |
| --- | --- |
| Monday | 9:00am – 5:00PM |
| Tuesday | 10:00am – 6:00pm |
| Wednesday | 10:00am – 6:00pm |
| Thursday | 8:00am – 5:30pm |
| Friday | 9:00am – 5:00pm |
| Saturday | 9:00am – 2:00pm |
| Sunday | Closed |